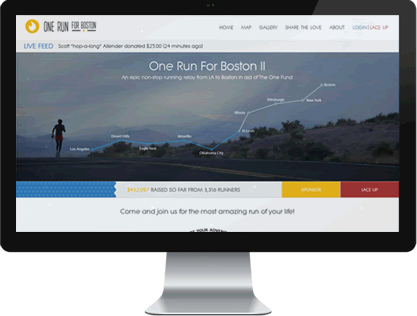 START YOUR ADVENTURE
Begin your One Run For Boston adventure by registering to run a stage of the relay.
Just click on the run a stage button or tab to browse the stages and select the one you want to run. If a stage already has a runner's name by it, click on the run with me button or choose another.
Up to 25 runners can join a standard stage. Depending on location, group stages can accommodate between 100-1000 runners.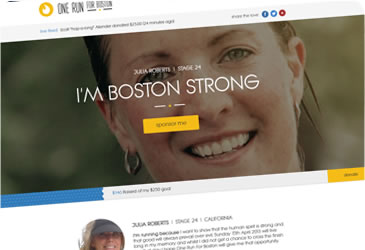 CREATE A PROFILE
Every runner is given an ORFB account and profile page on the website. You will need to personalise your page with a banner image, a smaller profile picture and some information about yourself.
Then you can start to upload photos of your ORFB adventure to your very own picture gallery!
Your profile page also doubles as a fundraising platform. Go into your account settings to choose a fundraising target - $250, $500, $1000 etc. We hope that every runner will try to raise at least $250. Together we aim to raise $1 million for The One Fund Boston. You will not be charged if you do not reach your target.


GET CHATTING!
Now that you're all set up it's time to meet the rest of the ORFB family.
Join a conversation via our new Disqus discussion board and check out what's happening on our Facebook and Twitter pages.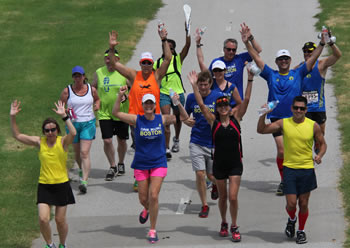 SHARE
Use the social media buttons on our website to share One Run For Boston far and wide.
Encourage your running mates to sign-up and run a stage. Ask friends and family to check out your profile page and sponsor you.
GET KITTED OUT
When you're part of a team this awesome, it feels great to wear the uniform.
We've teamed up with Ragnar Relay Series to bring you a range of One Run For Boston apparel.
To get you off to a flying start the guys at Ragnar Relay Series are generously providing each of our runners with an official One Run For Boston t-shirt for free! Check out the full range in our shop

BE READY
As the clock counts down to your big day, make sure you are all set. Plan and double check the route you'll be running.
Get your support crew primed and ready for action. Make contact with the people running before and after you to confirm handoff locations.
Oh, and one last thing, be ready for the run of your life!